Women







Tours



















Tour services












Services












Information












| | | | | | |
Notice: Upon receipt of your Ukraine Visa from the Ukraine Consulate you will need to use this Ukraine Visa How to read photo reference to assist you in verifying that your Ukraine Visa has the correct dates that will allow you to enter the Ukraine per your schedule. It is important that you check the Item # 7 Valid of entry. Our company is NOT RESPONSIBLE for mistakes made by the Ukraine Consulate. Be assured we will assist you in all and any manner possible to work with the Ukraine Consulate to correct any possible inaccuracy.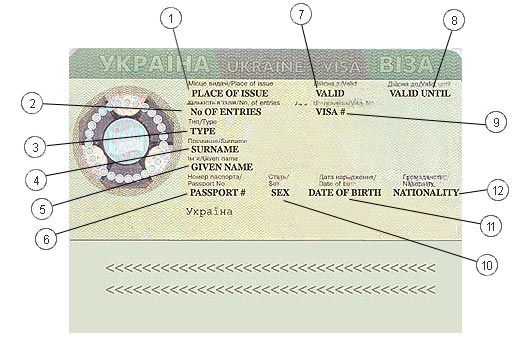 1. PLACE OF ISSUE (Location of Ukraine Consulate Chicago, Washington, D.C., New York or San Francisco).
2. No OF ENTRIES (Number of entries allowed into the Ukraine)
(1) - single entry Ukraine visa (valid for one entry).
(2) - double entry Ukraine visa (valid for two entries).
(M) - multiple entry Ukraine visa (valid till date of expiration)
3. TYPE (purpose of travel)
T - Ukraine tourist visa
4. SURNAME - Last name in Ukrainian/English
5. GIVEN NAME -First name in Ukrainian/English
6. PASSPORT #
7. VALID (You may enter the Ukraine on this date or any time after but prior to expiration.
Day . Month . Year
8. VALID UNTIL (You must exit the Ukraine on or before this date) Day . Month . Year
9. VISA #
10. SEX
11. DATE OF BIRTH
Day . Month . Year
12. NATIONALITY

Questions? call 1-602-553-8178 (ext. 208) between 9am 5pm MST, Monday through Friday.
| | | | | | |
New Wife

7320 N Dreamy Draw Drive
Phoenix, Arizona 85020
(602) 553-8178
FAX (602) 468-1119

Contact Us



THIS PROGRAM IS THE SOLE PROPERTY OF NEW WIFE AND MAY NOT BE COPIED IN ANY WAY OR FORM WITHOUT EXPRESS PERMISSION FROM NEW WIFE.

© COPYRIGHT 1996-2019 - ALL RIGHTS RESERVED.