Tours




















Latin Tours






Machu Picchu, Peru


Asian Tours



Tour services












Travel









HYDRAFOILS & RIVER CRUISES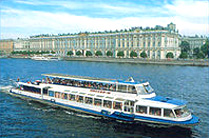 A hydrafoil ride or a romantic excursion on a boat is a wonderful way to view the city with your special lady. Hydrafoil and boat rides are located in various areas throughout St. Petersburg or on the numerous rivers and canals as well as on the Gulf of Finland.
St. Petersburg Romance Tour Details
Romance Tours
Russian Women Tours Latin Women Tours Peru, Latin Women Tours Costa Rica, Latin Women Tours
Ukraine Women Tours

Thailand, Asian Women Tours

Philippines, Asian Women Tours Multiple Cities Women Tours
New Wife

7320 N Dreamy Draw Drive
Phoenix, Arizona 85020
(602) 553-8178
FAX (602) 468-1119

Contact Us



THIS PROGRAM IS THE SOLE PROPERTY OF NEW WIFE AND MAY NOT BE COPIED IN ANY WAY OR FORM WITHOUT EXPRESS PERMISSION FROM NEW WIFE.

© COPYRIGHT 1996-2021 - ALL RIGHTS RESERVED.